Truck Accidents In New York And Queens
Tire Track Separation Is A Leading Cause Of Truck Accident
What causes tire track separation? A good majority of rollover crashes happen when a vehicle runs off the road and then hits a ditch, soft soil, curb, or any other object that can roll it over.  There is another way that this can occur as well, that is when a tire explodes, blows out, looses its tire tread, or the tire belt pees off and separates.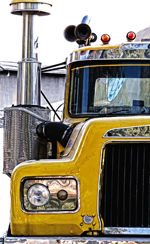 Over 10,000 people die each year in rollover crashes. They accounted for more than 10,000 deaths in the U.S. in 1999, which is more than side and rear crash fatalities combined. In 2001, after the death of 271 people and more than 700 injuries due to defective tire separation, the U.S. Department of National Highway Traffic Safety Administration ordered a recall of approximately 6.5 million tires. Primarily from the companies Bridgestone and Firestone. Another recall of nearly 13 million tires by Ford Motor Corporation proved that tire separation is a major issue that cannot be ignored. As a result of design and manufacturing defects, tire separations have become the most common type of failure of steel-belted radial tires. Tire and tread separation incidents can have potentially fatal consequences. Separations are the leading cause of tire blowouts, and have been known to cause rollovers.
With personal cars the danger lies in the fact that most people are unaware of how to determine how old their tires are, and that old tires, even with good tread, pose a danger.
With commercial vehicles the danger lies in the fact that some professional drivers will buy old tires because they are cheaper, deliberately ignoring the safety risk.The accidents caused by commercial drivers with bad tires are willful, wanton acts of gross negligence.
If you were involved in an accident, protect yourself and contact the Orlow Firm at (718) 544-4100.  With over 30 years of Accidents Caused by Tire Track Separation experience, the Orlow Firm will get you the compensation you deserve.
if you have been injured or lost a loved one in the New York City area, contact our truck ACcident Attorneys at the Orlow Firm.  Our NYC injury law firm offers free initial consultation and operates three offices across New York City for your convenience.  We can go to you if you cannot come to us.  To contact a lawyer, call (718) 544-4100.