Do you need Queens truck accident lawyers? If you've been injured in an accident in Queens with a commercial truck, contact us for maximum compensation.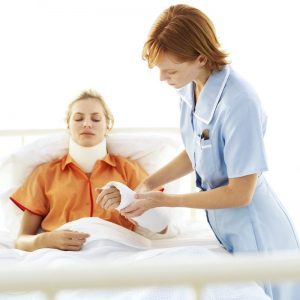 Truck Accident Attorneys serving Queens Island
If you are looking for Queens Truck Accident Lawyers, The Orlow Firm is here to serve you.
Tractor trailer, and other commercial truck accidents can be devastating for victims and their families, but the truck accident lawyers at the Orlow Firm have been helping victims of truck accidents in Queens receive the compensation they deserve for over 2 decades.
Truck Accident Attorneys at the Orlow Law Firm has over 25 years of experience representing victims and families of victims of large truck accidents in Queens such as those involving tractor trailers, FedEx or UPS trucks, and other commercial delivery trucks.
The Orlow Firm is experienced in the following areas of truck accident law:
Commercial Trucks (of all kinds)
Delivery Trucks
Buses
Tractor Trailers
18 Wheelers
Semi Trucks
Tanker Trucks
Flatbed Trucks
Tow Trucks
Truck Rollovers
Tire Blowouts
Jackknife Accidents
Wide Turn Accidents
Blind Spots
Loast Loads
T-Bones
Head On
Underride
There are many potential causes for truck accidents and it's important you work with an experienced lawyer who can not only make sure that all responsible parties are brought to justice, but to find the true cause of the accident in underlying scenarios. The Orlow Firm can make use of it's wide extending resources to further investigate your accident to make sure you get maximum compensation for your injuries.
Common Causes of Commercial Truck Accidents in Queens Include:
Driver Fatigue
Driver Negligence
Subpar Vehicle Maintenance
Subpar Driver Training
Improperly Loaded Cargo
Drugs or Alcohol
Disobeying Rules of the Road
Speeding
Tailgating
Much more.
Do you need Queens bus accident lawyers? If you've been injured in an accident involving a bus in Queens contact us to get max compensation.
Bus Accident Lawyers In Queens NY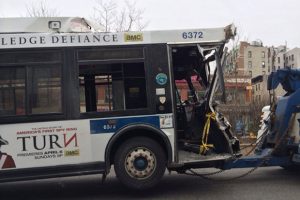 Bus Accidents In New York City
Motorcoach companies in the U.S. carry over 750 million passengers per year over our roads and highways.  This number is nearly equivalent to the entire population of Europe. Children and seniors comprise the fastest growing segment of our country's bus riders. Most of these passengers travel to and from their destinations without harm or injury. In fact, travel by motorcoach remains one of the safest and most efficient methods of highway transportation around.
The Motorcoach Industry
As of 2011, the motorcoach industry was composed of about 4,000 bus companies operating more than 35,000 vehicles.  In 2010, the Federal Motor Carrier Safety Administration (FMCSA) carried out 1,044 reviews to determine the degree to which carriers were complying with federal regulations.  Of the nearly 2,000 violations cited, 23% involved drivers falsifying or improperly recording their duty status or hours of service.  Driver error continues to be one of the most significant factors in bus accidents.
In the motorcoach industry, there are basically 5 types of carriers, defined as follows:
School–any carrier, whether operated by contract or by public or private school district, which provides transportation to pupils K through 12.
Transit—any carrier, operating primarily within urban geographical areas, which provides passenger transportation over fixed, scheduled routes,
Intercity—Any carrier providing for-hire, long-distance passenger transportation between cities and over fixed routes with regular schedules.
Charter/Tour—A company which provides for-hire transportation, usually on a round-trip basis, for a group tour or outing.  The carrier may be hired as part of a regular tour or for a specific event.
Other—These carriers include private companies that provide transport to their own employees, nongovernmental groups such as churches or nonprofits, and private individuals.
Good Queens bus accident lawyers will have experience with of these types of buses in order to best represent your case and make sure you get maximum compensation.
Queens Bus Accidents, Generally
Although bus travel is most often safe, motorcoach crashes do occur, and they can cause deaths.  From 2001 to 2010, an average of 17 motorcoach occupant fatalities occurred each year. In 2011, there were 8 serious bus crashes resulting in 28 motorcoach occupant deaths.  Two bus accidents alone, one in New York and one in Virginia, accounted for 19 deaths and multiple injuries.  These totals do not reflect fatalities involving pedestrians, bicyclists and the occupants of vehicles other than the motorcoach that were affected by the crash. The vast majority of fatalities, 74%, are caused by rollovers and roadside events such as running off the road or striking an object in the road.
Bus accidents are twice as likely to occur in the PM hours as in the AM hours, and 80% of major collisions take place at or near intersections controlled by a stop sign or traffic signal.  Surprisingly, most collisions, 80 to 90%, occur when the weather is clear and when the road surface is dry. It is believed that drivers tend to exercise greater caution when weather and road conditions are hazardous. Additionally, major bus accidents more frequently take place on straight roads than on those that are curved, uphill or downhill, suggesting that drivers may speed or lose concentration on straight roads.
The Orlow Firm Queens Bus Accident Lawyers Can Help
If you or a loved one has been injured in a bus accident, contact The Orlow Firm for a thorough discussion of your possible remedies under the law. Call us at (646) 647-3398.
Call The Orlow Law Firm today for a free consultation at (646) 647-3398.
We have offices in Manhattan, Queens, Brooklyn and Bronx. We serve clients  in Staten Island throughout New York State and we can also come to see you at your home.
Call The Orlow Law Firm today for a free consultation at (646) 647-3398.